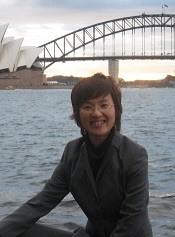 Dr. WU Qing

Doctor of Philosophy (2003)
Department of Chinese, Translation and Linguistics, CityU

Associate Professor and Head, Department of Translation and Interpreting
Vice Dean, School of English and International Studies
Beijing Foreign Studies University


"I was a university English teacher before joining the Department of Chinese, Translation and Linguistics of CityU as a PhD student. I conducted research on translation under Dr ZHU Chunshen's supervision. My education at CityU has literally reshaped my academic career ever since.
I was very much impressed at the top scholarship demonstrated by its international faculty, the liberal and encouraging environment for academic pursuit, the wonderful opportunities for research students to make a presence on the international scene, and the various professional supporting services and facilities. All these experiences set me on a path of seeking excellence.
I could still recall the extensive and inspiring discussions with my supervisor on selected research topics, the well-designed curricula, the eye-opening lectures of the Chinese Civilization Centre, my presentations at international conferences, and my participation in a UN Internship Program at its NY headquarters. Without these stimulating and rewarding experiences, my academic performance and vision would not have been in its current form." (Nov 2013)
[
back
]