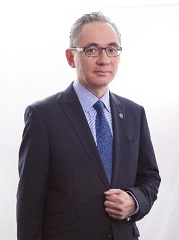 Dr. TO Christopher

Postgraduate Certificate in Laws (2008)
Bachelor of Laws (2006)
Master of Arts in Arbitration and Dispute Resolution (1996)
School of Law, CityU

Consultant on Arbitration and Dispute Resolution


"I embarked on three courses of study at CityU's School of Law. My main reason for doing so is that the Lecturers are extremely helpful and willing to go out of their way to assist you in grasping the fundamental concepts of each subject thus making studying a pleasure. Although the Bachelor of Laws programme was theoretical in nature which gave one a grounding on the various aspects of Law (which is essential), the other two programmes of study (Postgraduate Certificate in Laws [PCLL] and Master of Arts in Arbitration and Dispute Resolution [MA)] were more practical.
The structure and contents of these programmes (PCLL and MA) are geared towards those who want to apply theory into actual practice with the twist that you can actually make a difference in reality.
With society being more argumentative and people striving for fairness, having the skills sets of dispute resolution as taught in the MA programme not only enhances one's knowledge but could lead towards using such knowledge for the betterment of our society as a whole. What makes this programme unique is that the lecturers are all experience practitioners in their respective fields who have had substantial experience in the use of Arbitration and other forms of Dispute Resolution, not to mention they are highly regarded within the industry. Their lectures are very interactive whereby they will use scenarios derived from actual cases to stimulate students understanding of the subject. This not only provides students with fruit for thought, it actually allows students to grasp the fundamental aspects while visualising how one can apply the skills learnt in class into actually practice.
Another aspect of this programme which deserves a mention is that all the students are working in different fields and attend classes in the evenings and weekends, nevertheless they each bring a different aspect to the learning process which helps to stimulate learning through participation. If you want to help yourself and others at the same time, this programme and its learning outcomes would be highly useful for your self-development and enhancement. Whereas the PCLL programme helps those who want to qualify to practice law. In fact the skills learned in the PCLL programme definitely assist you in preparing for the real world thus making you a well informed and practical lawyer that is a real asset to society.
Having the right skills and mind set are crucial in pursuing a career in Law and these core elements are taught by dedicated and experienced practitioners at the University. City University of Hong Kong is without doubt your ideal partner in achieving your aspirations, as it did assist me in achieving my aspiration.
Further to my studies in CityU, I managed to obtain a PhD in Laws at Stirling University and was honored with a DEng at Glasgow Caledonian University, as well as being listed within the Who's Who of Arbitrators and Mediators globally signifying one's leading position within the dispute resolution arena, a skill I obtained through embarking on the MA programme at CityU." (Dec 2016)
[
back
]